Pediatric Transports
The safe transport of little patients is one of our main issues and preoccupations.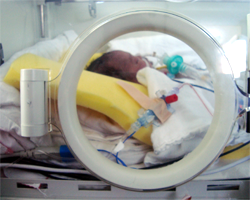 Pediatric Patient Transport entails many challenges. We answer those with specialized personnel and outstanding equipment. Monitoring, ventilation devices and medical material are designed to care for this age group's special needs. Neonate transfers are implemented with incubators especially constructed for ground or air-bound transports.
In addition to our team of pediatric and neonate physicians with pediatric ICU training, we employ pediatric nurse anesthetists with long-time experience in pediatric ICU interhospital transfers.