13.12.2019
In contrast to your usual tradition, to send presents to our partners and customers, we decided to change our way this year. MedCareProfessional as a company and our employees are very much aware of its social responsibilities and therefore we decided to donate money to the "Bergisches Kinder- und Jugendhospiz Burgholz", a hospice for terminally ill children and young adolescents in Wuppertal, Germany.
We handed over a donation to the managing director, Mrs. Kerstin Wülfing, who presented us the extensive work of the hospice during a friendly tour.
As a fact, many children and young adolescents are accompanied by their family members during this difficult times. But the accommodation and care of the family members is only possible through donations. We are happy to support this important task while this children and their families are going through a very difficult time. As a matter of fact, this is something close to our hearts!
The hospice describes its tasks as following:
"The Bergisches Kinder- und Jugendhospiz Burgholz provides advice and support to the families from the day of diagnosis of a life-shortening illness. This house is not only a place of mourning and farewell, but also a place of beautiful and happy moments. Moments that will also provide happy memories after the loss of the children and teenagers.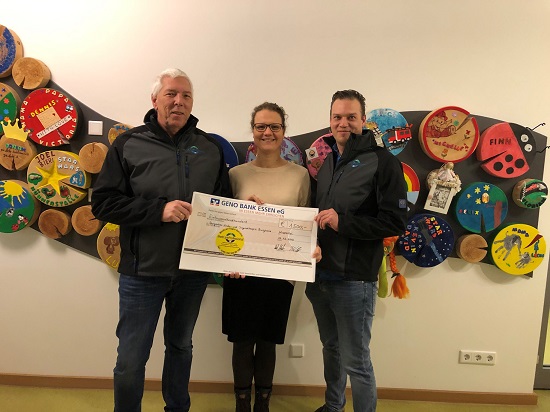 Repatriation of an morbid obese patient with multi-organ-failure and ECMO-Therapy
MedCareProfessional is known for its expertise in medical logistics, especially transportation of critically ill patients locally via ground-based intensive care vehicles as well as from all over the world via Air Ambulances
And because of our expertise were called upon by a large insurance company to carry out a difficult task:
A 51-y/o gentleman, with cardiac arrest, resuscitation and stabilization with an external heart/lung machine (ECMO-Therapy), due to an poor heart function (only 5%) and lung failure. Furthermore renal and liver failure as secondary complications.
Aggravating the situation was the weight of the patient: >150kg and therefore morbid obese.
After almost 10 days of maximally invasive therapy in Rennes, France, the patient didn't improve further and the indication for either a heart transplant or heart support system (LVAD-system) was given.
This procedure and follow-up rehabilitation should take place at the "Cardiac Center Dresden" in Germany, the patients home town
Our team consisted of an experienced anesthesiologist and a cardiac perfusionist. bringing along our own ECMO-Device, with all the equipment (pumps, cannulas etc.) twice, as a back-up.
Taking over at the university hospital in Rennes worked out without problems and the patient was perfectly safe, also thanks to the fantastic team of the cardio-surgical department, especially Prof. Dr. Flecher.
From there we transported the patient and our equipment to the airport in two ambulances, one just for the additional equipment. There we brought the patient into our Bombardier Challenger 604. All under active respirator, Monitoring and ECMO-Therapy and the patient stable at any given time.
We continued our efforts in keeping this highly-critical patient safe and stable until we reached our destination, at the ICU of the "Cardiac Center Dresden". There we furthermore assisted in switching ECMO-system again. This included surgical disconnection of the main cannulas from our system to the hospitals preferred system.
Even though the total distance was only mere 1350km, it took the team almost 16 hours in total. This shows the preparation, dedication, experience and reliability of our work.
In the end, we were happy to bring the patient home safely.
Thanks all our partners in helping us and working hand in hand, so we can bring home patients safely when they need us most.
23.06.2017
ECMO - Transport from Stockholm to Germany
The use of extracorporeal membrane oxygenation (ECMO) is a standard-procedure for the treatment of heart- and lung-failure. Furthermore the transport under ECMO is very common as many patients are cardiorespiratory instable, so the risk of a transportation without ECMO would be too high. Because of this many patients are transferred within Germany by MICU or MICU-Helicopter. International transports under ECMO-therapy are rather rare. Therefore we are proud to report a mission that reached us on June, 21st.
A 77-year old female, coming from Hannover collapsed on a cruise ship with a cardiac arrest. Bystanders begin with CPR immediately. After the return of spontaneous circulation (ROSC), the patient was transferred to the University-Hospital of Stockholm in a helicopter. During the transport the patient was respiratory and hemodynamically instable. On arrival the patient suffered again from a cardiac arrest. A Veno-Arterial-ECMO was installed and therapy started under continuous CPR. With that extra-corporal support the heart showed a normal rhythmic pattern again. For the purpose of continuing the likely protracted therapy the patient should now be transferred to a hospital near her hometown.
Ground-transportation was not an option as the distance between Stockholm and Hannover is more than 1100km. Even a helicopter-transport was not practicable due to the distance and the operating range of the used helicopter types. For this reason the patient shall now be repatriated by Air Ambulance. A experienced ECMO-Team from the University Hospital Hannover agreed to support us in that case. After completion of our preparations our Air Ambulance(Challenger C604) started its way from our home base in Cologne to Stockholm, manned with a flight paramedic, an intensivist as well as a cardio technician. Team and equipment were brought to Stockholm University-hospital by taxi where the takeover of the patient took place. After an incident-free change of the ECMO-Device and connecting the patient to our monitor, ventilator and syringe-pumps the patient was transferred to Stockholm-Airport by a local MICU. At the airport the patient was loaded into our ambulance plane under maintenance of all therapeutic procedures. The flight to Hannover completed without any incidents, although there were changes in the physiologic environment (pressure, G-forces, etc.)
At Hannover-airport the patient was handed over to a local MICU that provided the transport to Medizinische Hochschule Hannover. The ECMO-Team of course accompanied the ground-transport to destination.
We hope that the patient will get well soon.
05.02.2014
MedCareProfessional brings a new BLS-groundambulance into service

As of now MedCareProfessional provides 4 BLS groundambulances and one groundambulance in a stanby mode. A special feature of these vehicles is the the technical equipment which is above the required standard of the DIN EN 1789. Thereby it is assured that the crew is able to provide professional assistance in any case of emergency. The BLS ambulance is stuffed with to friendly and experienced paramedics ( Germann Rettungsassistent )

Technical Datas of the vehicle :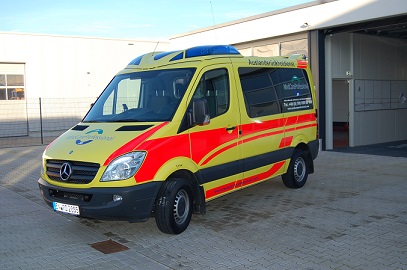 Mercedes Sprinter 313 CDI
Motor-vehicle body:
By Ambulanzmobile Schönebeck
Medical Equipement:
- Stryker Stretcher
- Children´s restrain system
- Schnitzer vacuum mattress
- Removable wheelchair
- 2.000 liters permanent Oxygen
- 400 liters removable Oxygen
- Lifebase III Ventilator
- Monitoring (Zoll M-Series)
- Suction pump Accuvac Rescue
- Braun Syringe pump
- Emergency bag DIN
- Replant – Set
- 4m BOS-radio unit
10.09.2013
First Flight Paramedic course
We are very pleased that we were able to perform in cooperation with the IAFP Germany and med1plus the first preparatory course for the examination FP C / C CCP to our new premises in Hattingen.
In 2014 this successful cooperation in our training rooms will be continued.
Learn more about it soon on www.medcareprofessional.de or www.med1plus.de
26.08.2013
MedCareProfessional moves into new premises in Hattingen.
The company's headquarters MedCareProfessional GmbH moves into their new premises in Hattingen. After almost three years of planning and construction phase, all affairs of the global company in the field of air ambulance and critical care transport from the industrial area "Henrichshütte" in Hattingen be conducted immediately.
The critical care transport ambulance station and the repatriation service center of MedCareProfessional GmbH is now 500 square meters of office space for the administrative and logistical activities worldwide air ambulance / intensive care and medical transportation. The vehicles are housed in a hall with 300 sqm.
The new building was realized without financial resources from public funds.
11.06.2013
MedCareProfessional Provides a new MICU
MedCareProfessinoal introduces new intensive care vehicles. As of now, our company has three identical construction vehicles and a spare vehicle in the area of ​​intensive care transports available.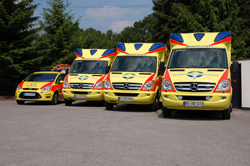 21.12.2012
On the 21th of Dezember 2012 after a Europe-wide open bidding initiated by the City of Bochum our company was commissioned to operate ICU transports according to §13 Emergency Medicine Law of NRW.
The City of Bochum has at its disposal three identically constructed ICU ground mobile units with the latest ICU equipment.
22.09.2012
MedCareProfesional Is Newest Corporate & Sustaining Member
The Aerospace Medical Association welcomes MedCareProfessional GmbH as its newest Corporate and Sustaining Meber. MedCareProfesional offers patient transport both nationally and internationally. Their fleet of ambulances, intensive care transports and air ambulance, as well as coordination with commercial carriers, allows them to provide worldwide professional help for sick or injured people.
They strive to ensure that their people are well-trained and their equipment is kept up to date; for example, they now use the Epoc blood gas analysis system. For more information on their company, please visit www.medcareprofessional.com (for English, click an the British flag).
Aviation, Space, and Environmental Medicine The Offical Journal of the Aerospace Medical Association S
EEPTEMBER 2012 – VOLUME 83, ISSUE 9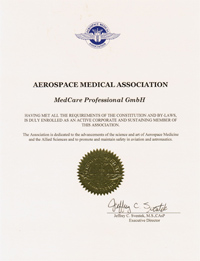 11.08.2012
New ambulance for MedCareProfessional.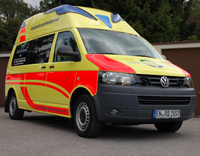 15.07.2012
New blood gas analysis - Systems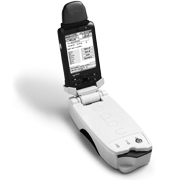 From now on we use the epoc ® blood gas analysis system from Alere in all areas.

25.05.2012
Our privacy issues are now handled by the company ER Secure. more...
25.04.2012
Teddy´s for baby - emergency ambulance projekt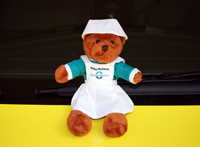 Ambulanz Mobile Schönebeck sponsors Teddy´s for our baby - emergency ambulance projekt.
09.03.2012
MedCareProfessional GmbH has received the approval for ground transportation services ( i.l. §18 RettDG NRW ) in BLS and ICU ambulances, for the operational area " Düsseeldorf International Airport " Included is tarmac access. The appropriate liability insurance for operators of airports with a coverage of 100 million Euro exists.
04.02.2012

Since 1th of February 2012 we operate in cooperation with the Marien - Hospital Witten, a baby - emergency ambulance.
28.11.2011
MedCareProfessional now on Facebook
To support and follow our new activity, please press the Like-Button on our Facebookpage! We'll update you weekly with new photos and videos from our global missions.
Please visit us: http://www.facebook.com/pages/MedCareProfessional-GmbH/140981229342963
09.09.2011
On the 9th of September 2011 after a Europe-wide open bidding initiated by the City of Bochum our company was commissioned to operate ICU transports according to §13 Emergency Medicine Law of NRW.
The City of Bochum has at its disposal three identically constructed ICU ground mobile units with the latest ICU equipment.
25.07.2011
Domestic German Flights
MedCareProfessional holds permission to realize patient transports with fixed wing aircrafts from all Northrhine-Westfalian airports according to §25 i.V.m. § 18 Rettungsdienstgesetz NRW.
Commencing now domestic German flights can be implemented in coordination with the local emergency dispatch center from all airports in NRW. Permission includes all of our five fixed wing aircrafts.